Can CBD Cream Help with Arthritis?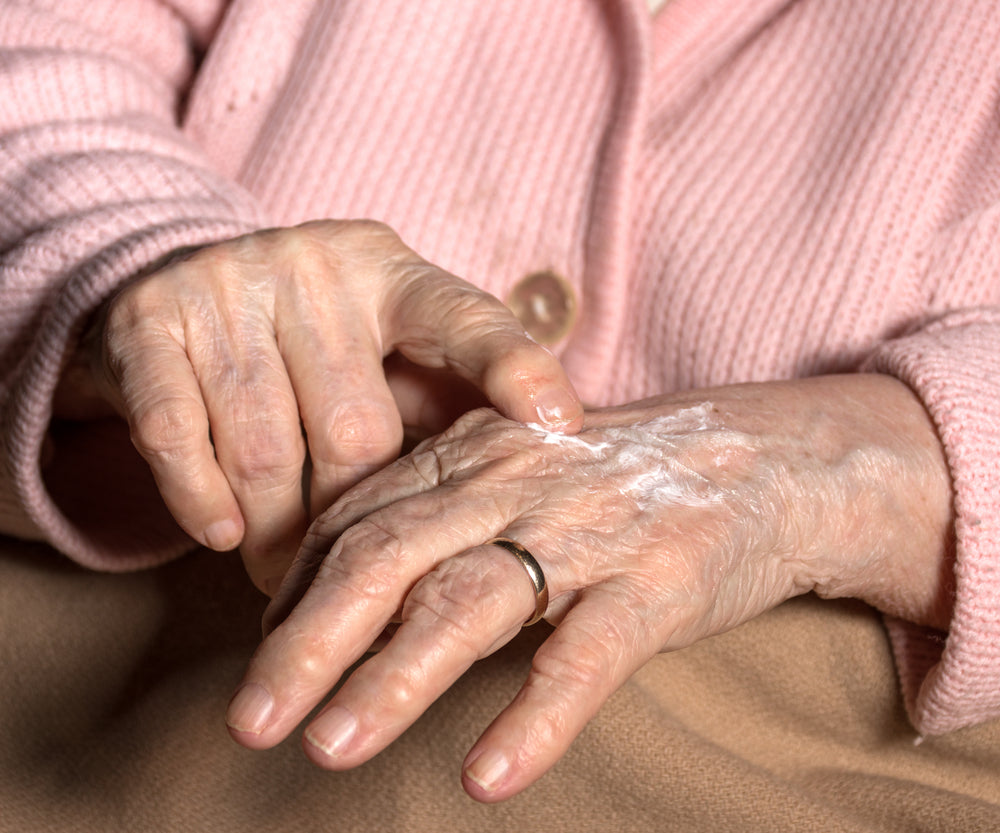 Can CBD Cream Help with Arthritis?
Many individuals around the world use CBD products to help alleviate a variety of different symptoms. In this article, we will be focusing specifically on arthritis pain and whether the use of CBD cream could help you ease the discomfort associated with this chronic condition.
What is Arthritis?
In the United States, more than 54 million [1] people are affected by arthritis. In fact, it's the leading cause of disability across the country. Osteoarthritis and rheumatoid arthritis are the two most common types of this chronic condition.
Rheumatoid arthritis [2] causes a person's immune system to attack their joints. It is most commonly felt in the feet and hands and often leads to stiff, swollen, inflamed, and painful joints.
Osteoarthritis [3] affects the bones and joint cartilage, which leads to stiffness and pain. This type of arthritis is degenerative and most commonly affects the thumb, knee, and hip joints.
What is CBD Cream?
CBD creams are infused with CBD oil, which some people use to reduce inflammation and relieve pain. There is some research suggesting that CBD oil could be useful for both pain relief and other conditions.
CBD creams, like this CBD Pain Balm, are applied topically to the skin in the areas that are affected by pain. There are many different reasons you might want to look into alternative medicines to manage your chronic condition. Not only has alternative medicine been around for longer than scientific medicine, but sometimes you might find that you're prescribed medication that simply isn't providing you with the results you want or need.
Many individuals use alternative medicine alongside those prescribed by their medical professional. It is, of course, absolutely essential to ensure you discuss any use of CBD products with your medical professional to ensure that it won't interact adversely with any prescribed or over-the-counter medication you are currently taking.
How Does CBD Interact with Pain Receptors?
There is some evidence to suggest that CBD could block particular pain receptors associated with inflammation and pain. Most research in this area has specifically focused on nerve-related pain, but a review conducted in 2020 suggests that CBD could also help to relieve chronic pain. It did, however, emphasize that this relief is likely to be associated with specific conditions.
Does CBD Oil Relieve Arthritis Pain?
Research from the Arthritis Foundation [4] indicates that there is some anecdotal evidence suggesting that some individuals with arthritis note that the use of CBD products improves their sleep, reduces their anxiety, and/or alleviates their pain.
Back in 2011 [5], a study on rats indicated that CBD can reduce inflammatory pain by influencing the ways in which pain receptors respond to certain stimuli. In 2014 [6], additional animal research indicated that CBD could be an effective osteoarthritis treatment. Three years later, in 2017 [7], research concluded that CBD could be an effective and safe treatment for osteoarthritis-related joint pain. Additionally, in 2016 [8], research found that CBD applied topically may relieve the inflammation and pain associated with different types of arthritis.
It is important to note that there is currently a distinct absence of conclusive scientific evidence to prove that CBD products are effective treatments for arthritis in humans.
I Have Arthritis. Should I Try a CBD Cream?
The absence of high-quality clinical studies relating specifically to arthritis and CBD means that medical professionals have been unable to conclusively say who could benefit from CBD, which form will deliver the most beneficial results, and what the ideal dosage looks like.
There has, however, been agreement on several different points. CBD should not be considered a substitute for inflammatory arthritis treatment. Additionally, it is imperative that you discuss this with the medical professional who oversees your arthritis treatment. This will give you the opportunity to comprehensively review what has and hasn't worked for you in the past, explore the options available to you, and put in place a way to determine whether CBD creams do deliver positive outcomes for the management of your inflammation and chronic pain.
Are There Other Forms Of CBD?
There are a variety of CBD products that can be inhaled, applied topically, or taken orally. CBD capsules and oils are slowly absorbed in the digestive tract. Liquid CBD products, like this THC Free CBD Oil, can be applied under the tongue for at least one minute and will be absorbed directly into the bloodstream. CBD can also be vaped, but the risks associated with this for people with inflammatory arthritis are currently unknown. Therefore, vaping isn't recommended.
[1] https://www.cdc.gov/arthritis/data_statistics/arthritis-related-stats.htm
[2] https://www.medicalnewstoday.com/articles/323361
[3] https://www.medicalnewstoday.com/articles/27871
[4] https://www.arthritis.org/health-wellness/healthy-living/managing-pain/pain-relief-solutions/cbd-for-arthritis-pain
[5] https://pubmed.ncbi.nlm.nih.gov/21683763/
[6] https://pubmed.ncbi.nlm.nih.gov/24494687/
[7] https://pubmed.ncbi.nlm.nih.gov/28885454/
[8] https://www.ncbi.nlm.nih.gov/pmc/articles/PMC4851925/